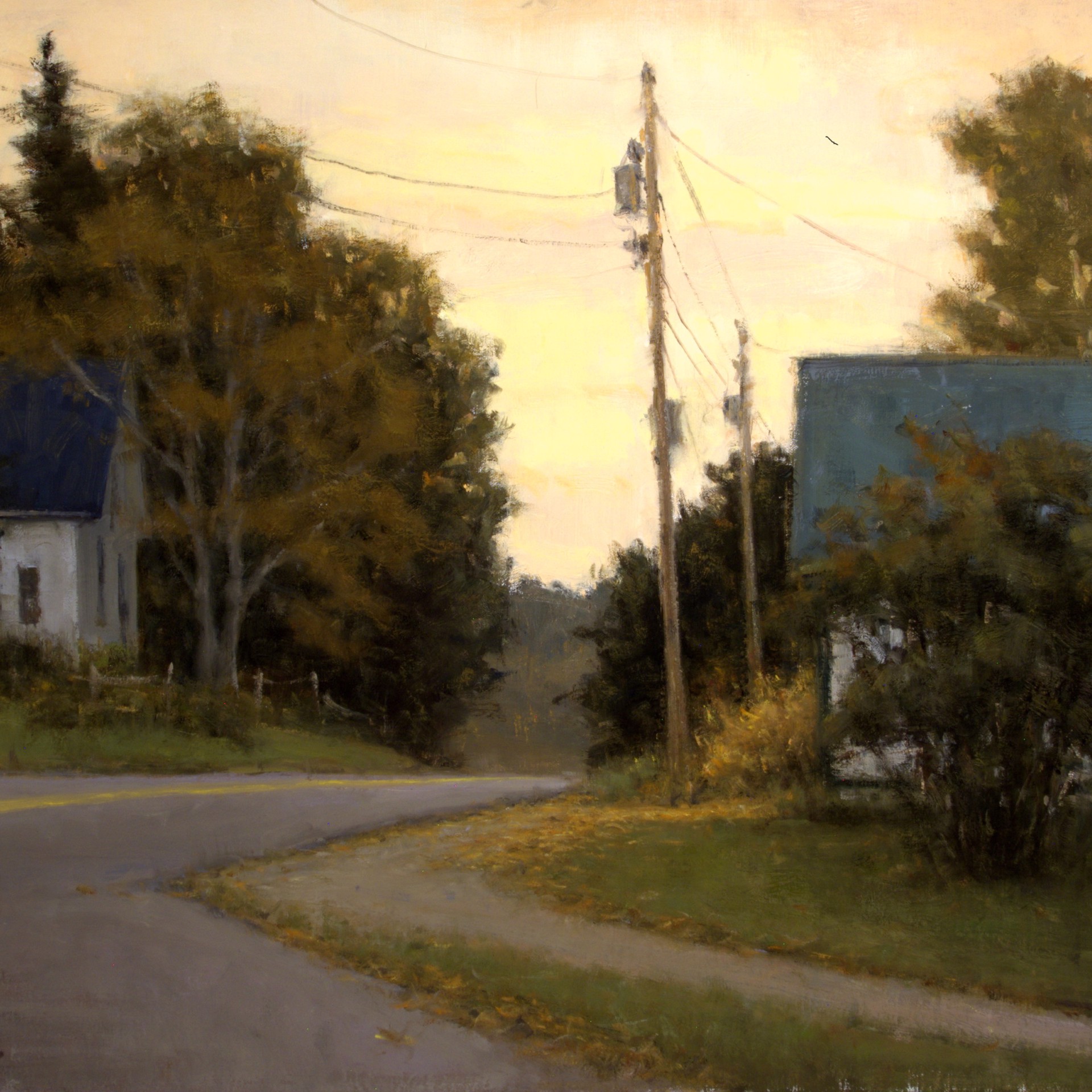 Carol Jenkins was born to an artistic Massachusetts family and started drawing and painting very early. Her home was filled with beautiful paintings done by her great grandmother. Her grandmother traveled to the White Mountains in New Hampshire in the 1890s to paint "en plein air." Jenkins was inspired by these paintings and encouraged by her family. She always knew she wanted to be an artist. She received a National Scholastic Art Scholarship in high school to go to the art school of her choice. Jenkins dreamed of becoming an illustrator and chose Vesper George School of Art in Boston. One of her teachers was Robert Douglas Hunter. He noticed her talent and encouraged her to move from commercial art to fine art. She transferred to the School of the Museum of Fine Art in Boston, Massachusetts and majored in painting.
In her early twenties she had an urge to travel and headed west. She was struck by the awesome beauty of the Rocky Mountains. She settled in the historic mining town of Ward, Colorado, surrounded by National Forest and near the Indian Peaks Wilderness area. Hiking, backpacking, and living in a small town suited her. Jenkins is still here today.
After many years of working with pastels, Jenkins felt like holding a brush again. She decided to get serious about oils and signed up for workshops with the best teachers and painters she could find. She studied with Kim English, Skip Whitcomb, Kang Cho, Greg Kreutz, George Strickland, Carolyn Anderson and Kevin Wenckebach.
Jenkins enjoys painting just about anything - landscapes, interiors, buildings and figures, but her greatest love is plein air painting. The weather, the light, and the land all become part of her. Heading out into nature, looking around, and being inspired by a beautiful composition and translating that to her canvas right then and there is always exciting to her.
She still loves to travel to New England, Florida and the mountains and deserts of the Southwest.

Awards
2021 Impressionistic Award of Excellence, Oil Painters of America National Juried Exhibition of Traditional Oils, Escondido, CA.
2019 Award of Excellence, Oil Painters Of America Western Regional Show, Santa Fe, New Mexico, Sorrel Sky Gallery
2019 Quick Draw-Second Place, Estes Valley Plein Air, Art Center of Estes Park, CO.
2019 Award of Merit, Plein Air Artists Colorado 23rd Annual Juried Fine Exhibition and sale, Studio 8369, Grand Lake, CO.
2019 Award of Merit, Governors Art Show, Loveland Museum, Loveland, CO.
2019 Award of Merit, 23rd Annual National Juried Fine Art Exhibition and Sale, Studio 8369, Grand Lake, CO.
2018 Third Place, Estes Valley Plein Air, Estes Park, CO.
2017 Best of Show, Plein Air Painters Colorado, National Show, Mary Williams Fine Art, Boulder, CO.
2016 Award of Merit, Plein Air Painters Colorado National Show, Mary Williams Fine Arts, Boulder, CO.
2016 Artist Choice Award, 29th Annual Womens History Month Exhibition, "Dreams and Ambitions" Cultural Arts Center, Estes Park, CO.
2015 Award of Excellence, Oil Painters of America Western Regional Show, Wild Horse gallery, Steamboat Springs, CO.
2014 Award of Merit, Plein Air Artists Colorado, 18th Annual National Juried Show
2013 Artist Choice Award, Best Body of Work, Plein Air for the Park National Show, Jackson Wyoming
2012 Windows to the Divine, "Altitude and Attitude" Award of Merit, Abend Gallery, Denver, CO.
2011 Southwest Art Magazine, Third Place Award, Boulder County Parks and Openspace Plein Air Exhibit
2011 Award of Merit, Colors Of Colorado Show, Steamboat Art Museum, Steamboat Springs, CO.
2011 Plein Air Artsts Colorado, National Show, Third Place Award , Saks Gallery, Denver, CO.
2011 Southwest Art Magazine, Award of Excellence, Rocky Mountain Plein Air Painters, National Show, Pagosa Springs, CO.
2009 Awarded Honorable Mention, Wyoming Plein Air Event, Cheyenne, Wyoming
2009 First Place, Associate Members Plein Air Artists Colorado, National Show, Abend Gallery, Denver, CO.
2007 Best Body of Works, Artist Choice, Rocky Mountain Plein Air Painters National Show, Elkhorn Gallery, Winterpark, CO.
2006 Best Body of Works, Artists' Choice, Rocky Mountain Plein Air Painters Signature Show, Wildhorse Gallery,Steamboat Springs, CO.
2006 Award of Excellence, Rocky Mountain Plein Air Painters National Show, Elkhorn Gallery, Winter Park, CO.
2006 & 2004 Best of Show, James Creek Art Show Jamestown, CO.
2004 Award of Excellence, Rocky Mountain Plein Air Painters National Show, Estes Park, CO.
2004 Award of Merit, Rocky Mountain Plein Air Painters Show, Estes Park, CO.
1990 First Place, Central City Arts Annual (pastels), Central City, CO.
1990 Second Place, Art Zone, Denver, CO. (pastels)
1965 National Scholastic Arts Scholarship

Publications
October 2013 "The Joy of Being" Feature article, Southwest Art Magazine
February 2012, Ten Artists Depict the Landscape, Southwest Art Magazine
Decmber 2007, Artists to Watch, Southwest Art Magazine
Read More
Click on the paintings to enlarge