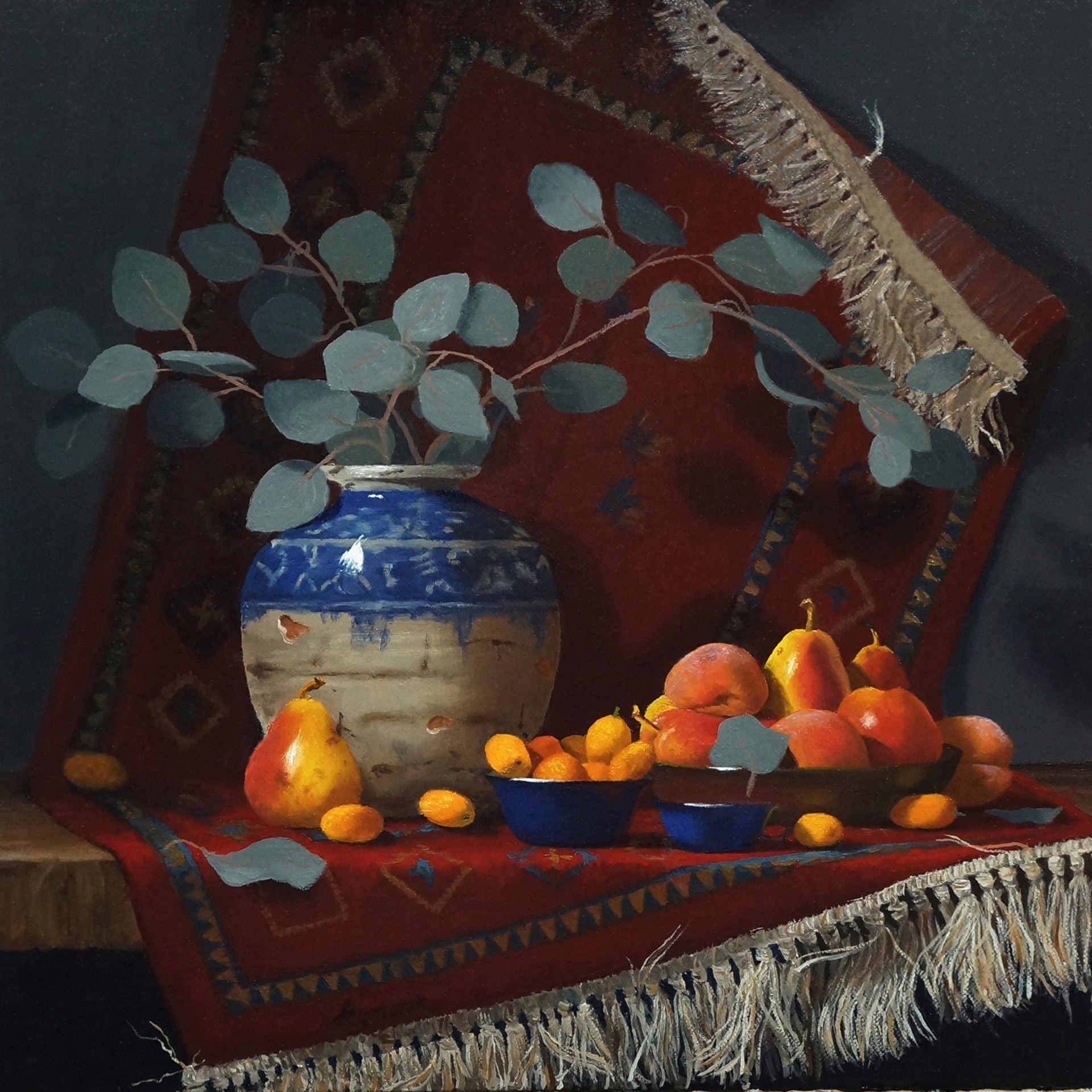 Claudia Seymour was President of the historic Salmagundi Club in New York from 2007 through 2013, six years of great growth and renewal for the organization. She is a widely collected artist in oil and pastel. Seymour is a Master Signature Member of the Pastel Society of America and has been awarded Master Circle status by the International Association of Pastel Societies. She is also an Associate Member of the Oil Painters of America. Her classic still lifes in oil and pastel have been shown in over 175 juried national and international exhibitions, and she has won numerous prizes, including first-place and best-in-show awards. She works only from life, creating scenes that portray a timeless elegance and serenity through her concentration on radiant light and her choice and arrangement of antiques and ceramics, natural objects, fabrics, flowers and plants, and other materials. Seymour is also a juried member of the Allied Artists of America, American Artists Professional League, American Women Artists, Audubon Artists, National Oil and Acrylic Painters Society, the International Guild of Realism, and Catharine Lorillard Wolfe Art Club. She has been active in and on the boards of numerous art organizations, but now she devotes herself to full-time painting. In 2019 she was awarded the Salmagundi Medal of Honor by the Salmagundi Club.
Seymour earned her BA (with Honors) in English Literature from Duke University and her MA from NYU. She studied at the Silvermine School of Art in New Canaan, CT, and the Art Students League of NY.
Her work has appeared in publications such as The Pastel Journal, American Art Collector, International Artist, Southwest Art, and Best of Pastel Artists and Artisans, Vol. 1. Her work has also been showcased on the covers of American Artist's Still Life Painting Highlightsand American Artist. In addition, Seymour has twice been awarded prizes in The Pastel Journal's annual Pastel 100 competition. She is frequently asked to serve as a juror of selection or judge of awards for exhibitions and competitions.
Claudia Seymour says of her work, "My paintings are a personal expression of a lifelong fascination with the visual effects of color as revealed by the play of light across a still life tableau. My goal as a realist painter is to portray the limitless beauty of color in every object, as well as in the interaction between objects, their shadows, and the surrounding space. Working only from life, I attempt to establish a tranquil mood and impression of serenity both by the lighting itself and by the choice and arrangement of chosen elements. I use a wide variety of antiques, ceramics, glass, fabrics, fruit, flowers, and other natural objects, many of which have a special meaning for me. Each still life is composed either to highlight a special object or to evoke a particular response. Frequently I use deep, often neutral backgrounds to develop a depth of scene and to foster a feeling of air within each work. Then, using light and color, I strive to create not only a pleasing arrangement of pretty things but also to produce a heightened sense of drama through which the composition literally begins to glow. "
Read More
Click on the paintings to enlarge