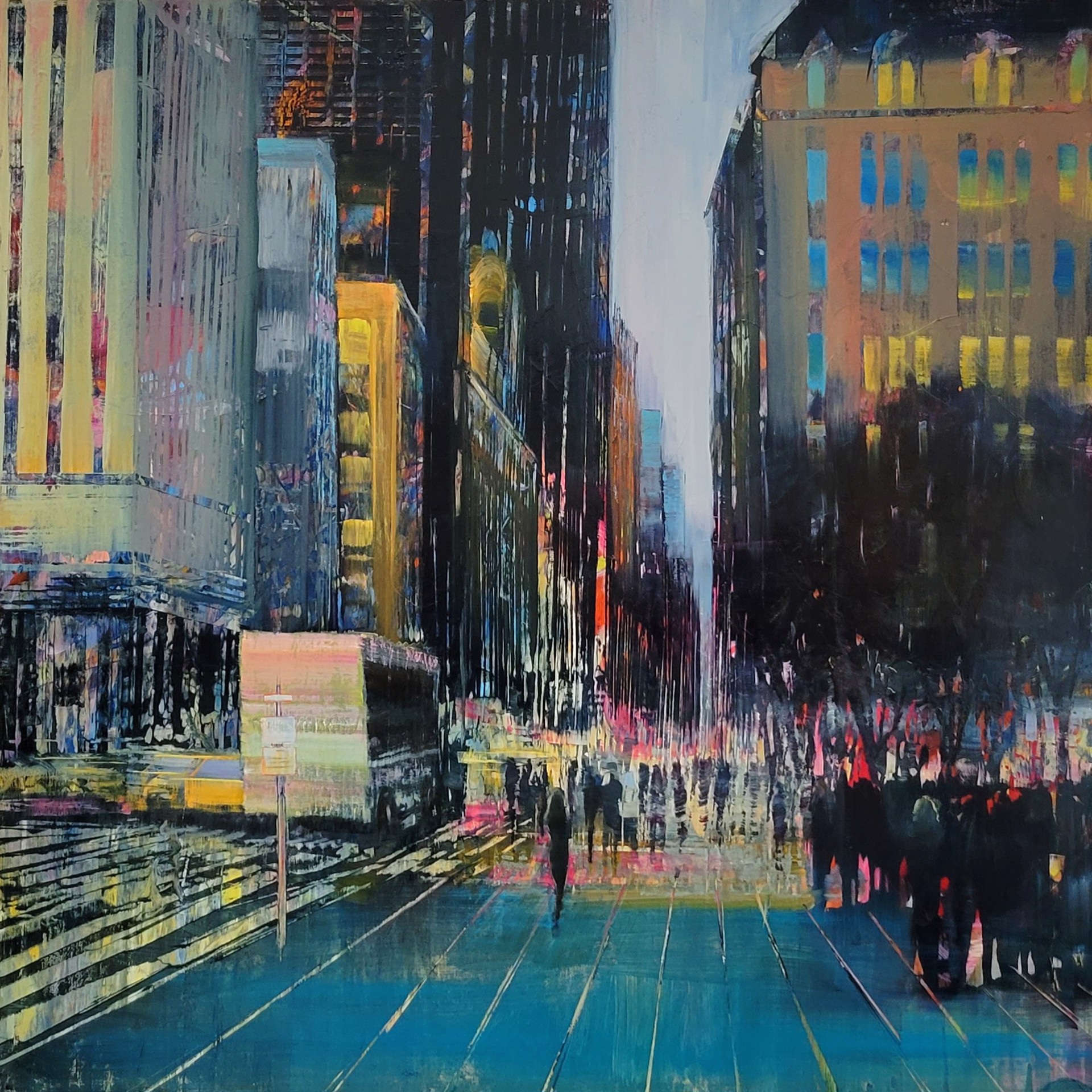 David Dunlop is a modern-day old master whose luminous paintings draw from both Renaissance techniques and contemporary science. His paintings have been shown internationally and are held in the collections of major corporations including Aetna Insurance, Citibank, Delta Airlines, GE Capital Corporation, IBM, Mobil and more. David's work has been reviewed extensively, in, e.g., The New York Times and Art New England.
David's painting formed the cover of Ink Publications, October 2022, with a feature article inside. American Art Collector, June 2020, chose David's painting for its cover, and reviewed a solo show. Two articles by David were published in Artists Magazine, April 2020 and July/August 2020. He was profiled in a Chinese publication, Chinese Oil Paintings, November 2019.
Galleries and institutions have granted David solo shows since 1981. "Luminous Atmospheres," Susan Powell Fine Art, Madison, CT, opened May 19, 2023. Spring 2022 featured "Journeys in Light," Susan Powell Fine Art, followed by "New Work," Attic Gallery, Camus, Washington. September 2021 saw "David Dunlop: September Spotlight Show," The Centerpiece, Raleigh, NC. "Luminous Mysteries," Susan Powell Fine Art, opened June 2021. 2020's shows included "Luminous Adventures," Susan Powell Fine Art; following "Landmarked," Lily Pad Gallery West, Milwaukee, WI. 2019's shows included "Town & Country," Drawing Room Gallery, Cos Cob, CT; "New Work," Attic Gallery; "Color & Luminance," Susan Powell Fine Art; and "Travels in Light," Cultural Center at PVB, Ponte Vedra Beach, FL. 2018 concluded with "The World Around Us," White Gallery, Lakeville, CT, following "Rhythms of Nature" and "Natural Rhythms," Susan Powell Fine Art; "Rhythmic Transitions," Drawing Room Gallery; and "David Dunlop," Lily Pad Gallery West. 2017's shows were "daviddunlop: the electric city," White Gallery; after "Travels in Light," Attic Gallery; and "Travels in Light," Susan Powell Fine Art.
David won an Emmy and a CINE Golden Eagle Award in 2009 as the engaging host and writer of the 13-show national PBS television series, "Landscapes Through Time with David Dunlop." In 2017, the second series was nominated for an Emmy. "Landscapes…" shows internationally and returned to U.S. national television in 2018. Both series were directed by Connie Simmons and produced by SimmonsArt; the first was co-produced by Connecticut Public Television.
David is the instructor in a multi-DVD/streaming series on painting landscapes produced by SimmonsArt, blogs, and has followings on Instagram - #daviddunlopartist - and on YouTube - search "David Dunlop videos." He has an international audience for his online classes and lectures. All can be accessed at www.daviddunlop.com.
The Metropolitan Museum of Art invited David to lecture on 4000 years of landscape painting in 2005. He has been an artist/lecturer at many institutions, including the Huntsville Art Museum, Huntsville, AL; Montclair Art Museum, Montclair, NJ; Springfield Museums, Springfield, MA; New Britain Museum of American Art, New Britain, CT; Caramoor Museum of Art, Katonah, NY; Shelburne Museum, Shelburne, VT; and Arizona-Sonora Desert Museum, Tucson, AZ.
David graduated Phi Beta Kappa from the College of Wooster, Wooster, OH, and was honored as a Distinguished Alumnus in 2011. He earned an MFA from The Pratt Institute, NY, NY. He long served on the faculty of the Silvermine School of Art in New Canaan, CT, where he taught, lectured, and lead workshops, as far afield as Italy, France, Spain, Portugal and Japan. He was honored with Silvermine's Living Art Award in 2017. David lives in Wilton, CT, with his wife, Rebecca Hoefer.
Read More
Click on the paintings to enlarge