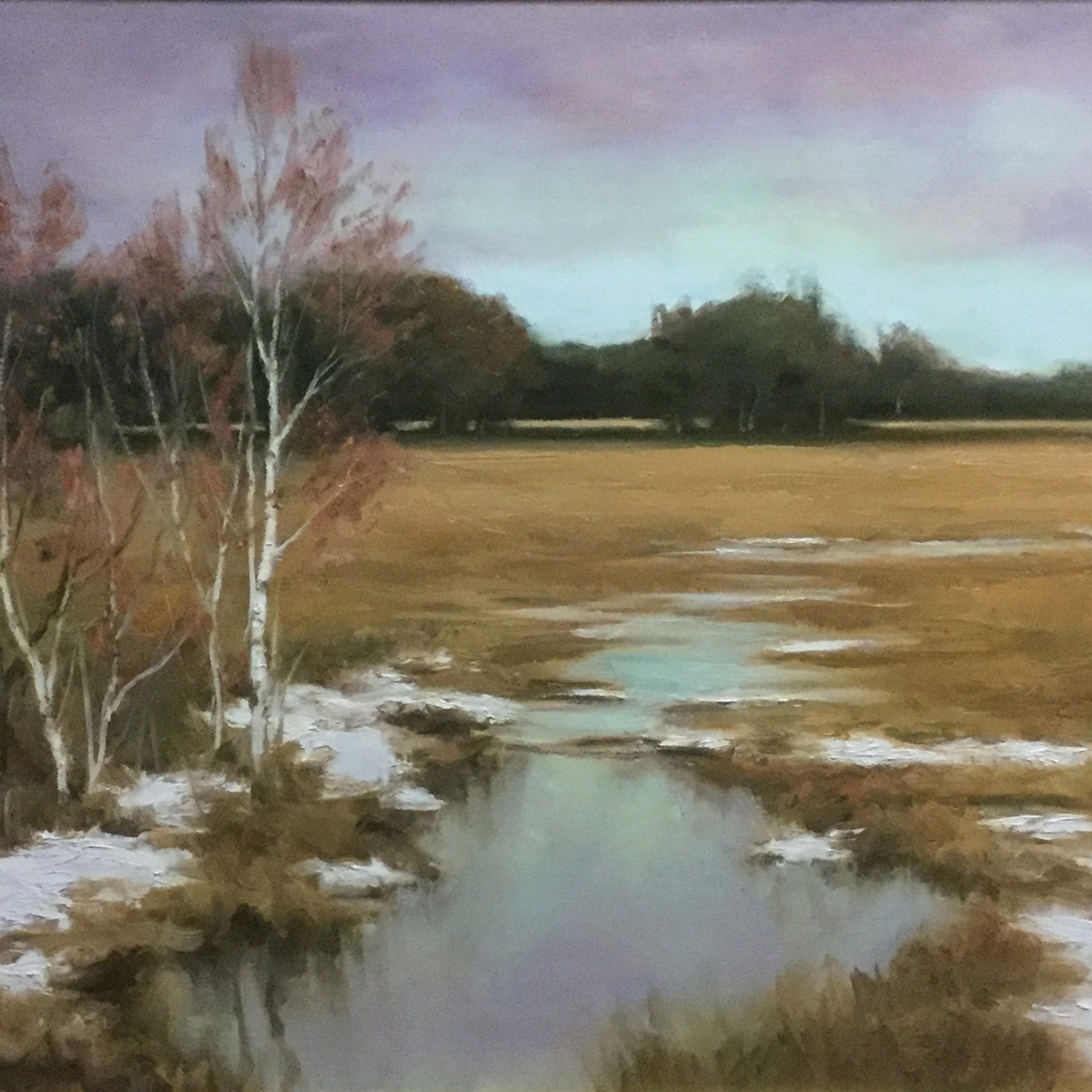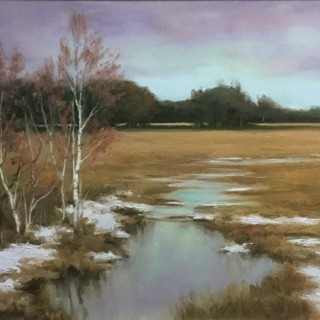 Dennis Sheehan, born 1950, has work in major public and private collections, including the White House. Sheehan evokes the artistic sensibility and emotional impact of 19th century American Tonalist landscape painters. His poetic landscapes favor Nature's transitional moments -- the breathtaking effects of dusk, dawn, and the stillness before storms. He builds his compositions by tonal contrast and translates value relationships into color relationships. In this way, nothing is arbitrary: the paintings exude a sense of organic correctness. Looking at his work, we sense a satisfying "rightness" to his choices.
In his own words, Sheehan notes, "My goal is to have the painting emanate light, rather than be just a surface that records the reflections of light. This is why shadow areas are important, for it is from them that this emanation proceeds. The light areas are focal points of the effort, but the power comes from the shadows."
Not surprisingly, his method gives darks pre-eminence: he starts with darks and in a subtractive process, removes pigment to reveal subtle gradations of light. "I study Rembrandt as much as I study trees... and like Rembrandt, I find drama in the darks as they articulate lights." He aims for an emotional response in the viewer, and strives to imbue his landscapes with the same expressiveness found in Old Master portraits. Sheehan's extensive use of glazes also enhances the expressive effect, and brings a glowing dimensionality to his surfaces.
Sheehan received his training in the best traditions of the "Boston School," studying at the Vesper George School of Art and the Montserrat School of Visual Art. He also studied with two of R. H. Ives Gammell's former students, Robert Cormier and Richard Whitney.
Born in Boston in 1950, Sheehan now resides in New Hampshire. His work has been awarded many distinctions and has been acquired by major public and private collections. He is a member of the prestigious Guild of Boston Artists where he is featured in exhibitions annually. He also is a member of the Putney Painters of Vermont. Sheehan had a one-man show at the St. Botolph Club in Boston which has a long history of showing eminent artists including John Singer Sargent in the 1880s. He also had a one-man show at the Whistler Museum of Art in Lowell, Massachusetts, in the fall of 2008.
Read More
Click on the paintings to enlarge