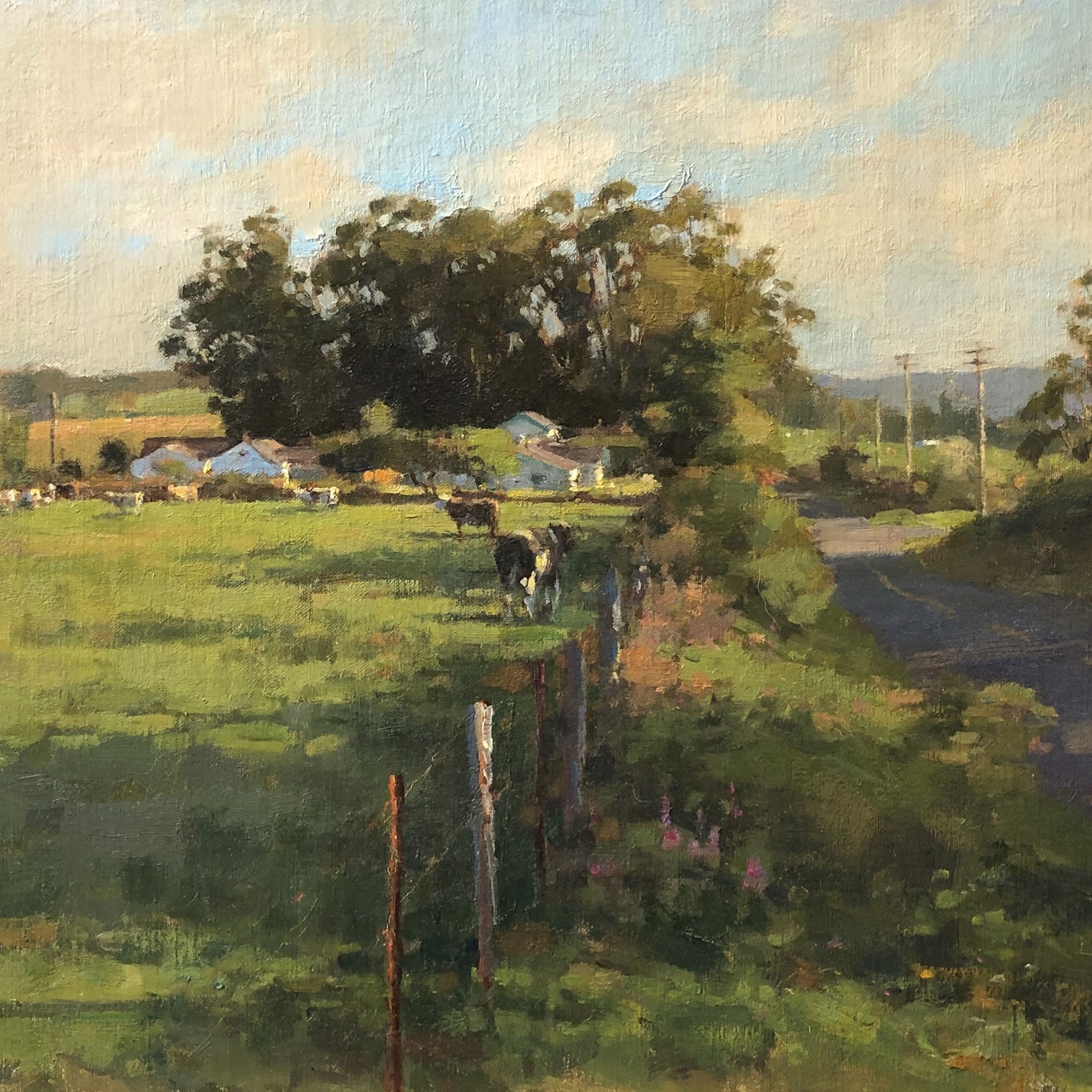 At the age of 21, upon seeing nineteenth century French landscape paintings, I had an awakening to art. The beauty and sensitivity I saw in those works changed my perception of the world.
I started studying art history, painted copies of French impressionist landscapes and enrolled in life drawing and painting classes at Chaffey Community College. In 1975, I decided to become a full-time painter. I was 24 years old.
I moved from Ontario, California, where I was raised, to the northern part of the state. After a year I settled in Eureka, California. I was drawn there by the beauty and the art community. I met and worked with several very accomplished artists, painting landscapes every day on location, or painting in the studio always working directly from the still-life set up or models. I learned from direct observation of nature, by looking at and studying great art from the past and working alongside artists more developed than myself.
In 1984, I met my wife and fellow artist, Terry. We live a wonderful quiet life in California. We have studios on our property and I continue to paint daily, following my passion for painting from life, trying to capture the light, atmosphere, space, and the mysterious beauty all around us.
AWARDS
2020-21 Art Renewal Center Salon: 3rd place, Still Life & Plein Air categories, Honorable Mention, Plein Air category
2019-20 Art Renewal Center Salon Competition, Honorable Mention Plein Air category
2019 22nd Annual Laguna Beach Plein Air Painting Invitational: Jean Stern Distinctive Merit Legacy Award, Spirit of Laguna Award, The Irvine Museum Award
2018 Artist Choice Award Maui Plein Air Invitational
2017 1st place in the Plein Air category of the Art Renewal Center International Salon Competition, two Honorable Mentions: Plein Air and the Still Life categories
2017 Best Composition, Best West Coast Artist, Best New Artist to Easton, Easton Plein Air Festival, Easton Maryland, July, 2017
2016 Best in Show, Laguna Beach 18th Plein Air Invitational
2016 Finalist, Art Renewal Center International Salon Competition
2015 First Place, Plein Air Magazine Salon Competition $15,000 award. Cover story, Sept 2015 issue
2015 Gold Medal for Best Painting, 104th Gold Medal Exhibition, California Art Club
2015 Finalist, Art Renewal Center International Salon Competition
2014 Best in Show, Laguna Beach 16th Plein Air Invitational
2014 2nd Place, Plein Air Magazine Salon Competition
2014 Franz Bischoff Award for Best Still Life, 103rd Gold Medal Exhibition, California Art Club
2014 Southwest Art Magazine Award of Excellence, 103rd Gold Medal Exhibition, California Art Club
2014 Finalist, Art Renewal Center International Salon Competition
2013 3rd Place, Plein Air Magazine Salon Competition
Read More
Click on the paintings to enlarge