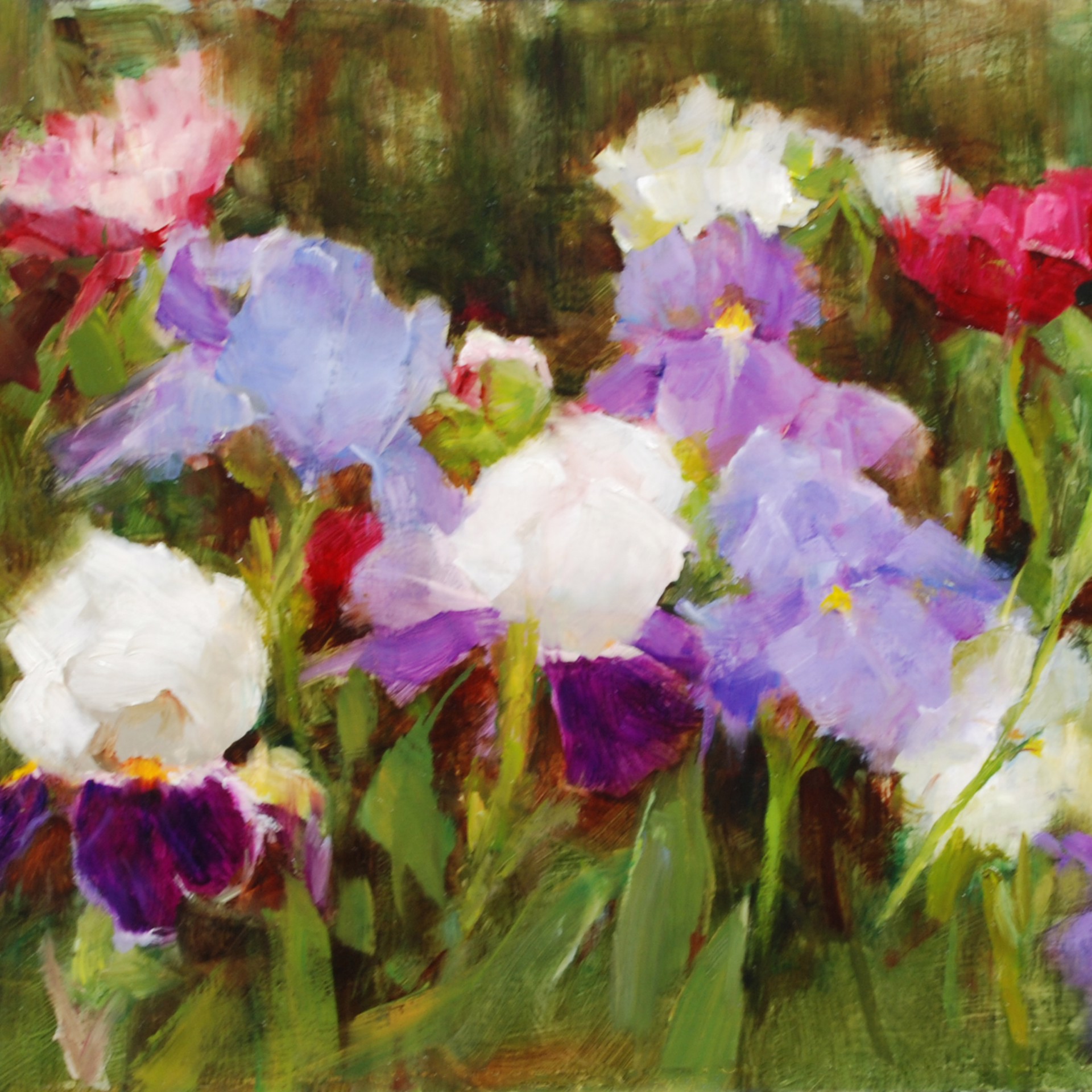 Kathy Anderson was born on Long Island, NY. She moved with her family to Connecticut in 1973 where she resides today. In addition to being an acclaimed floral and garden painter, Kathy is an avid gardener and enjoys playing the piano. Her passion for gardening is seen in her naturalistic flowers painted with deft brushwork and rich color expressing nature's beauty. Kathy believes in painting from life whenever possible and carries her paints on her frequent travels. "Painting and music are very related passions for me. They are both lifelong studies that are never complete. There is always more to learn and the joy is in the learning." Anderson's work is widely held in both corporate and private collections throughout the country.

In 2001, she was honored with an invitation from renowned artist Richard Schmid to join his painting group in Putney, Vermont. Since joining the group, Kathy has been a finalist four times in International Artist Magazine Competitions. Kathy Anderson has been awarded Master Signature Member status by Oil Painters of America in January, 2018. Oil Painters of America is one of the premier national organizations dedicated to preserving and promoting excellence in representational art. Oil Painters of America's primary mission is to advance the cause of traditional, representational fine art by drawing attention to the lasting value of fine drawing, color, composition and the appreciation of light. Master Signature Member status is awarded after a rigorous review of an artist's work and accomplishments in the art world by a committee of Masters and approval of the Board of Directors. Only a few artists achieve this distinction each year. In March 2019, Kathy Anderson was awarded a 2nd Prize Award in the Oil Painters of America Virtuosos Exhibition, Masters Category, for Daffodils and Quince.

In addition to her affiliation with OPA, Kathy is a signature member of Allied Artists of America and the Connecticut Watercolor Society. She is an Artist Member of the Salmagundi Club and an Exhibiting Artist Member of the National Arts Club where her work is held in the permanent collection. She is a Charter Member of the Putney Painters founded by Richard Schmid and a member of the Rocky Mountain Plein Air Painters. She is a popular teacher, leading workshops around the country and internationally and has served on the faculty of both the Portrait Society of America and the Plein Air Convention.
Memberships
National Arts Club, NYC – Exhibiting Artist Member – Painting selected for Permanent Collection
Salmagundi Club, NYC– Artist Member Oil Painters of America – Signature Member
Allied Artists of America – Signature Member
Connecticut Watercolor Society – Signature MemberPutney Painters, Putney Vermont – Charter Member
Rocky Mountain Plein Air Painters
2015 Plein Air Convention, Monterey – Faculty

AWARDS
2021 Gold Medal, Master's Division, Oil Painters of America Salon Show
2020 11th Annual Plein Air Salon, Best Floral
2019 Salmagundi Club, Sylvia Maria Glesmann Floral Award 2nd Prize
2019 Second Place, Master's Division, Virtuosos of OPA
2018 Salmagundi Club, 2018 Fall Auction, Edwin H. Blashfield Award
2018 Oil Painters of America National Exhibition – Donor's Award of Excellence
2018 Third Place – National Arts Club, Exhibiting Artist Member Show
2017 President's Award – National Arts Club, Exhibiting Artist Member Show
2017 First Place Still Life – Salmagundi Club, Still Life in Color Show
2015 Gamblin Oil Award for Landscape – Salmagundi Club 131st Members Show
2014 Sylvia Glesmann Floral Show – Best in Show, Salmagundi Club, NYC
2014 Oil Painters of America National Juried Exhibition – Best Signature Member Award of Excellence2013 Salmagundi Club, John N. Lewis Memorial Award, Top Award, Nov 2013
2013 Oil Painters of America National Juried Exhibition – Impressionist Award of Excellence
2013 Art Renewal Center Salon Competition – Finalist Landscape Category 2012– Finalist Animal Category
2012 Western Art Collector Award of Excellence – Rocky Mountain Plein Air Painters Paint Out and Show, Jackson Hole, WY
2012 Salmagundi Club – President's Award – Summer Show
2012 Jury's Top 50 – Salon International 2012, Intl Museum of Contemporary Masters of Fine Art, Greenhouse Gallery
2012 National Arts Club Members Show – House of Hydenryk Award
2012 Salmagundi Club – Herbert L. & R. Harmer Smith SCNY Award2011 National Arts Club Members Show – President's Award 2010 American Art Invitational – Saks Galleries Southwest Art Magazine Award of Excellence
2010 Alden Bryan Memorial Prize (First Prize) for a Traditional Landscape in Oil – Salmagundi Club Member Show
2010 Margery Soroka Memorial Award (First Prize) Salmagundi Club – Summer show2010 Fine Art Views Online Exhibition – First Prize2010 RayMar Art Competition – July Finalist
2009 Bayonet Farm Annual Plein Air Competition – First Prize
2007 National Arts Club – Portrait Award, EAM Show
2006 Catherine Lorillard Wolfe Art Club John Manship Landscape Award
2006 International Artist Magazine Floral and Garden Competition – Finalist
2004 Hudson Valley Art Association Rayma Spaulding Award for Landscape
2004 International Artist Magazine Floral Competition – Finalist 2 times
2003 Connecticut Watercolor Society Esther Fay Memorial Award
2003 National Arts Club Annual Online Exhibition – President's Award
2000 National Arts Club EAM Show – House of Heydenryk Award

SELECTED EXHIBITIONS
American Masters Invitational, Salmagundi Club - Laumeister Art Center, Bennington, VT, Tribute to Richard Schmid Show, Sept. 2018 - Legacy Gallery, Bozeman, August 2017 Two Person Show - Pierce Gallery, Nantucket, 2016 Solo Show - Rocky Mountain Plein Air Painters – Centennial Exhibition for Rocky Mountain National Park at the famous Stanley Hotel, Estes Park, CO 2015 American Masters at the Salmagundi Club, NYC 2015 Gilcrease Museum, Collector's Reserve exhibition, Tulsa, OK 2015 Art of the Animal Kingdom, Bennington Art Center 2015 Legacy Gallery, Scottsdale, AZ, Two person show 2014 St. Botolph Club, Boston, 3 person show with Richard Schmid and Nancy Guzik 2014, '13, '10, '08 Oil Painters of America National Juried Exhibition 2013 Greenhouse Gallery – 2 person shoe "Beyond the Still" 2013, 2012 Art Renewal Center Salon Competition 2013 Allied Artists of America 2012, 2014 American Masters Invitational, Salmagundi Club 2012, 2013 Salon International 2012 – Greenhouse Gallery 2013 thru 2001 Exhibiting Artist Member Show, National Arts Club, NYC 2012 Miller Gallery – Contemporary Impressionism Invitational 2012 Artists for the New Century – Bennington Center for the Arts 2012, 2014 Rocky Mountain Plein Air Painters – Grand Teton NP 2014-2008 Settlers West (Tucson, AZ) Annual Invitational Miniature Show 2011 – 2012 Scottsdale Salon of Fine Art – Legacy Gallery 2010 – 2014 American Art Invitational – Saks Galleries – Award of Excellence 2011, '10, '09, '08 Oil Painters of America Eastern Regional Juried Exhibition 2010 Acadia Invitational – Argosy Gallery, Bar Harbor, ME 2010 Salmagundi Club Member's Show – First Prize 2009 Fine Art Views – Dec. '09 Competition – Best of Show 2009-2014 Windows to the Divine, Evergreen, CO, Invited Guest Artist 2009 & 2005 Solo Show – National Arts Club, NYC 2008 Lyme Art Association Annual Landscape Show – Guest Artist 2010 Nomadas Del Arte – Keystone Artist 2013-2006 Telluride Plein Air – 1 of 30 artists accepted 2007 Women Artists of the West – Guest Artist 2007 Butler Museum – 71st Annual National Midyear Exhibit 2007 Connecticut Watercolor Society – CWS Award Winners Invitational 2008-2006 Richard Schmid Invitational Fine Art Auction – Ft. Collins, CO 2003 – 2006 Catherine Lorillard Wolfe Art Club 2013 Allied Artists of America 2006 Arts for the Parks Top 200 Show 2005 ROAR Exhibition – Aldrich Museum 2004 Arts for the Parks Top 100 National Touring Show 2004 Hudson Valley Art Association
ARTICLES / FEATURES
Plein Air magazine – Feature Article July 2014
Southwest Art Feature Article – "Drawn to the Garden" 2013
International Artist – "A day in the life" Aug/Sep 2013
American Art Collector – "From Bud to Bloom" – March 2012
Southwest Art – "Petal Pushers" – May 2012
American Artist Studios 2012
American Artist – Feature Article – Jul/Aug 2011
Art of the West – Feature Article – May/Jun 2011
Fine Art Connoisseur – Artists Making Their Mark – May/Jun 2011
American Artist – Nov. 2010
Southwest Art Magazine – Artist to Watch, Aug. 2010
American Art Collector – Artist Focus, April, 2009
Art & Antiques Magazine – Spring 2008
International Artist – Feature Article – Jan. 2007 issue
International Artist – How did you paint that? -Favorite Subject – 2005 -Still Life & Florals – 2004 -Floral & Garden – 2004 -Seascapes, Rivers & Lakes – 2004
American Artist Magazine & Website – July 2003
Read More
Click on the paintings to enlarge