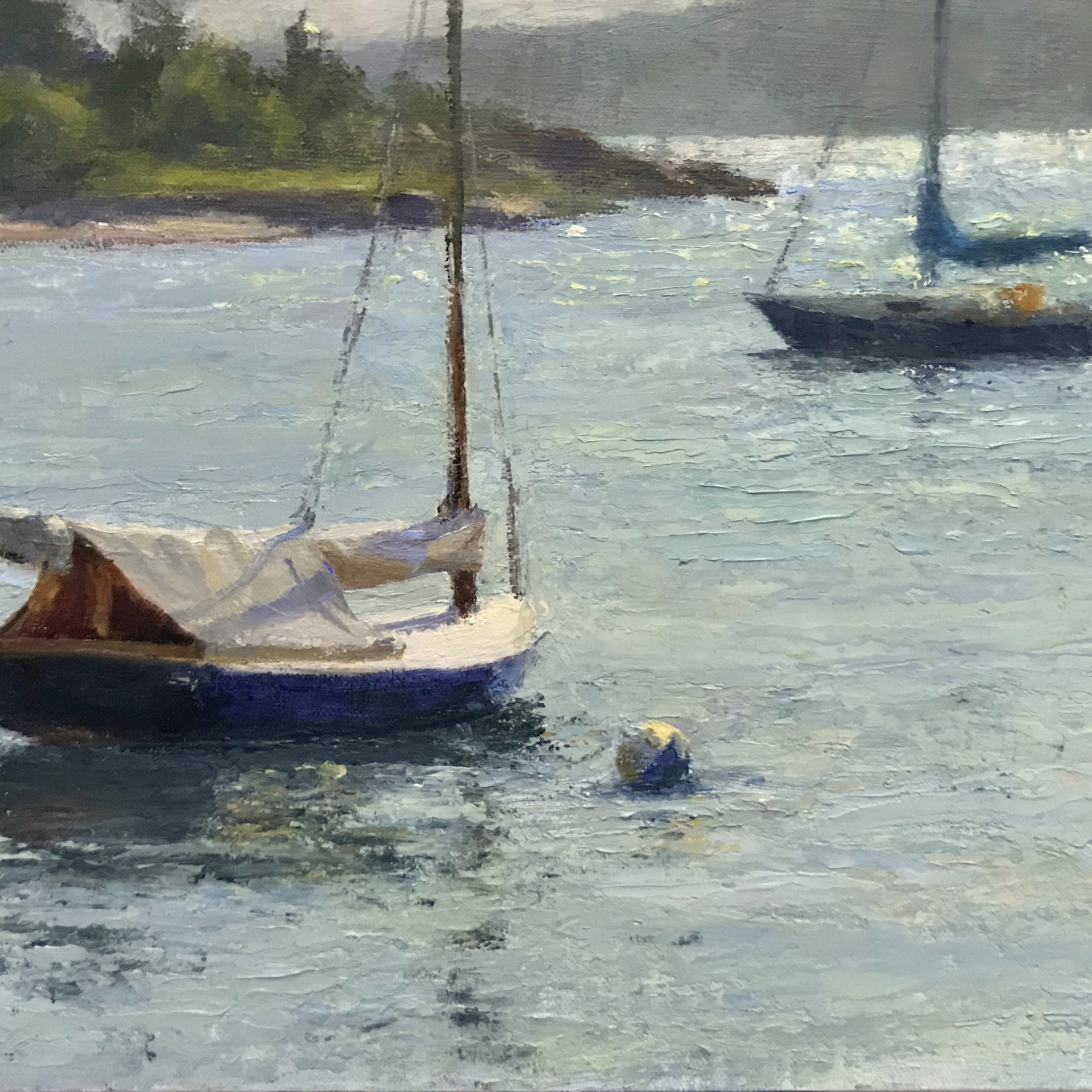 A Connecticut artist with roots in Bucks County, Pennsylvania, Susan spent most of her childhood painting and drawing. After a 20 year career as a speech pathologist, she returned to her love of painting full-time in 2000. She began to build a reputation as a Bucks County impressionist, frequently staying with family there to paint the beautiful countryside and stone houses along the Delaware River. Since then, her roots have spread. Susan enjoys the diversity of painting in her home state of Connecticut: the changing seasons, from the shoreline to the hills, the farms, fields, and woodlands. Painting the landscape en plein air is a passion, whether it is in her garden, in the historical district where she lives, or the destination of her travels. It allows her to cultivate her paintings from life, and then to finish or create them in the studio. Having vacationed in Nantucket most of her adult life, she returns there often to paint the moors, the cottages, the sands, and the sea, bathed in a light unique to the island. The Connecticut coastal landscape has become even more prevalent as Susan now divides her time between her home in Trumbull and a cottage on the shore in Old Lyme, Connecticut. Floral still life paintings also remain a favorite subject which she creates in the studio.
Most of Susan's paintings are done in oil, but she also works with watercolor, gouache and pastel. Meditation is a daily practice and a part of Susan's painting process, and her paintings are an expression of a connection with inner stillness. Also as a Reiki practitioner with Master Certification, Susan often works with the intention of infusing a painting with healing energy. She began teaching in her newly built studio in 2018, and recently conducted an online workshop teaching "Painting with a Meditative Process".
An artist member of the historical and prestigious Salmagundi Club in New York City, Susan exhibits her work there regularly. She is represented by Susan Powell Fine Art in Madison, CT and also exhibits her work at the Lyme Art Association where she is a member. Other professional affiliations include the American Society of Marine Artists, Oil Painters of America, American Impressionist Society, National Oil and Acrylic Painters. In 2020, Susan was invited by renowned artists Richard Schmid and Nancy Guzik to become a member of the Putney Painters, a group of dedicated artists inspired by their teaching. She is also a founding member of the nationally known High Street Painters, originally formed in Brattleboro, VT.
Susan has received numerous awards for her paintings. Recent accomplishments, exhibitions and awards include the following:
2020-2021 American Society of Marine Artists 18th National Exhibition museum tou
2020 Oil Painters of America Eastern Regional Juried Exhibition of Traditional Oils
2020 American Impressionist Society Online Exhibition
2019 Award of Merit, Salmagundi Club Sylvia Maria Glesmann Members' Floral Exhibition
2019 Gamblin Award for Landscape, Salmagundi Club 135th Annual Members' Exhibition
2019 Award of Merit, Lyme Art Association First Impressions Exhibition, Juror J. Massimino
2018 Drawn to Win Podcast with Don Victor
2017 Wholesale Frame Award, Connecticut Plein Air Painters Juried Members' Exhibition
2017 Bucks County Plein Air Festival
2016 BoldBrush Award, FASO July BoldBrush Painting Competition, Juror Joseph Todorovitch
2016 Best Water, April/May Plein Air Salon Competition, Juror T. Allen Lawson
2015 Salmagundi Club in Vermont, Bennington Center for the Arts
2015 Salmagundi Club NYC Members Exhibition
2014 Salmagundi Club NYC Thumbox Exhibition
2014 Madison Art Society 39th Annual, Jay Folger Memorial Still Life Award
2014 Salmagundi Club NYC Members Exhibition
2013 Richeson 75 Still Life and Floral publication
2013 Salmagundi Club NYC Members Exhibition
2012 Salmagundi Club NYC Members Exhibition, Sylvia Maria Glesmann Award for Excellence in Floral or Still Life
2012 Juror, 20th Annual Piedmont Art Show, Somers, CT
2012 New Britain Museum of American Art Members Exhibition
2012 Connecticut Plein Air Painters Society Members Exhibition
2012 Pitkin Street Painters at Hartford Fine Art Gallery
2011 Salmagundi Club NYC Plein Air Competition: 3rd prize
2010 Oil Painters of America Eastern Regional Competition
2010 67th Annual Connecticut Artists Exhibition, Slater Memorial Museum
2009 Bayonet Farm Art and Music Festival Plein Air Competition: 3rd prize
2009 Love of the Land, Cavalier Galleries, Nantucket, MA
2008 Sylvan Gallery Sense of Place, Clinton, CT: 2nd prize
Read More
Click on the paintings to enlarge