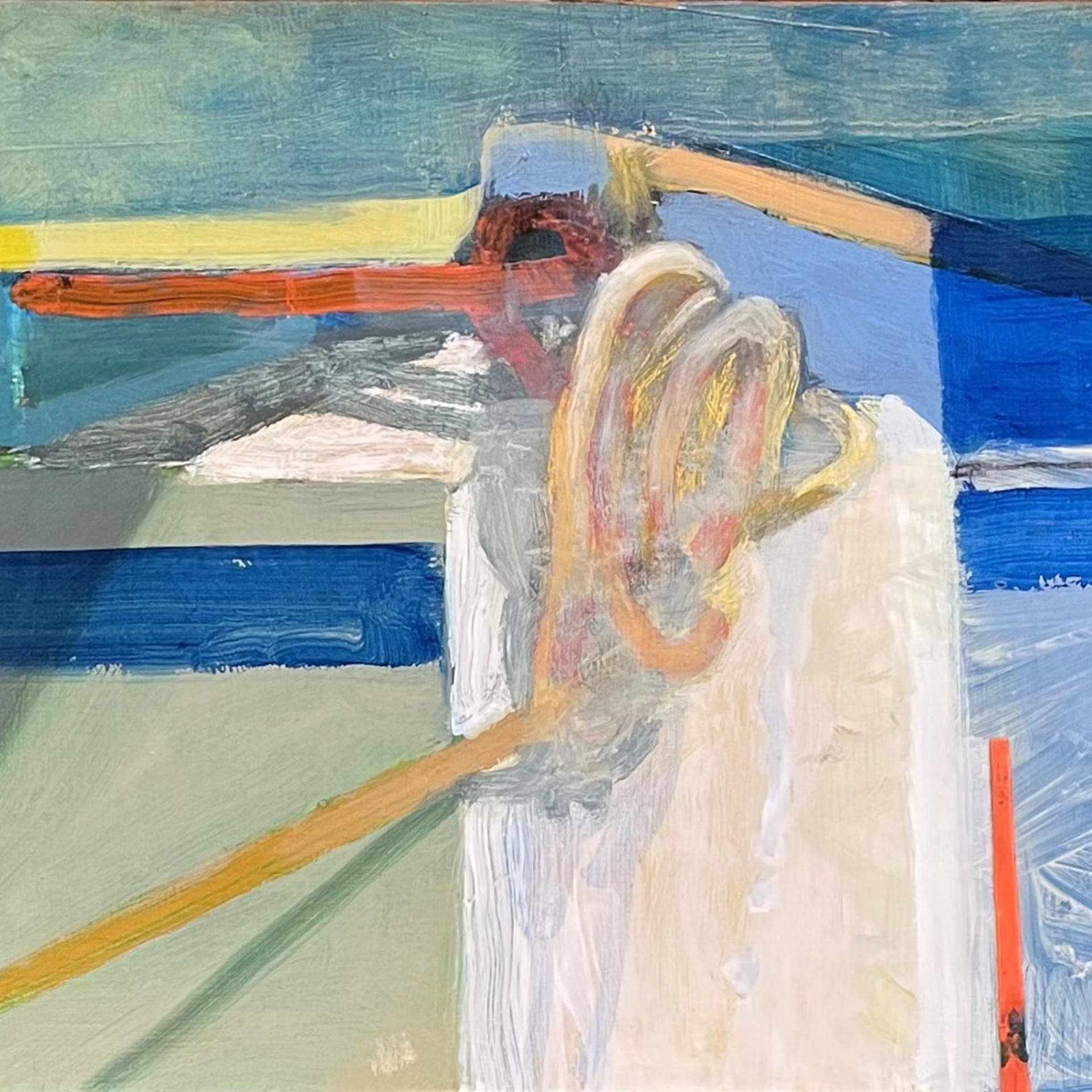 Tom Glover has been painting on the New Hampshire and Maine seacoast his entire adult life. Artist and mentor John Laurent taught him to work both abstractly and more realistically. It is a way to keep one's eye fresh and one's mind flexing, adjusting, adapting and frankly, delighted. Glover finds that not only working back and forth in these two modes keeps him engaged and visually alert, but also allows him to work on several different paintings at each session in the studio. If he is stuck and brooding over one painting, he can pull up another painting which presents him with new problems and issues. There are times when a solution in one painting can help facilitate and hatch a solution in a painting he is stuck on.
Paintings are about ideas and the more he can stir up new ideas the more layers of curiosity and interest he can introduce into the painting process. It is in the process of painting in which ideas are realized, shaped, constructed, deconstructed, created, sometimes destroyed, to finally be resurrected and formed into visual manifestations. Glover may have the idea of trying to capture the experience one has when visiting the seacoast, especially in the harbors, and around the docks and piers so prevalent along the coasts of Maine and New Hampshire. Glover spends a great deal of time around the local harbors and estuaries and inlets. After experiencing sights, sounds and smells, taking copious pictures and making sketches, he sets about bringing it all together in paintings. The process of painting is an extension, so to speak, of the physical experience, but only if the painting keeps some of the vitality of the original experience. Capturing some of the characteristics of certain places, or qualities of water, or temperature of sky and light, will allow the painting to convey some of the experience he has had. Abstracting experiences is the process of distilling the experience into its very fundamental and rudimentary aspects. It can be a bit trickier than the literal visual account of a place or object. More often than not he starts with a subject, render it rather realistically, and then begin to pare it down to its basic characteristics and forms, gestating an idea into existence.
And to give authenticity, Glover sometimes incorporates the fluorescent paint used to paint buoys. There's a certain orange, for instance that appears in a number of his works that is intense and reflects out from the shore. He has also painted a series of works of Fenway Park and is a longtime fan of the Red Sox. Glover got permission from the park owners when no one was there to take photographs. His Pesky Pole (Fenway Park) is included in the Bridging Realism to Abstraction show.
"One of the goals of my work is to break through with artwork that speaks to the future and speaks to the past. That's my voice. John Laurent said painting realistic is like a golf game. You know where you have to go, and you hit the ball in a straight line to reach your goal. Abstraction is more like a tennis game. You hit the ball over the net, and you never know where it's going to come back. That appeals to me."
Read More
Click on the paintings to enlarge