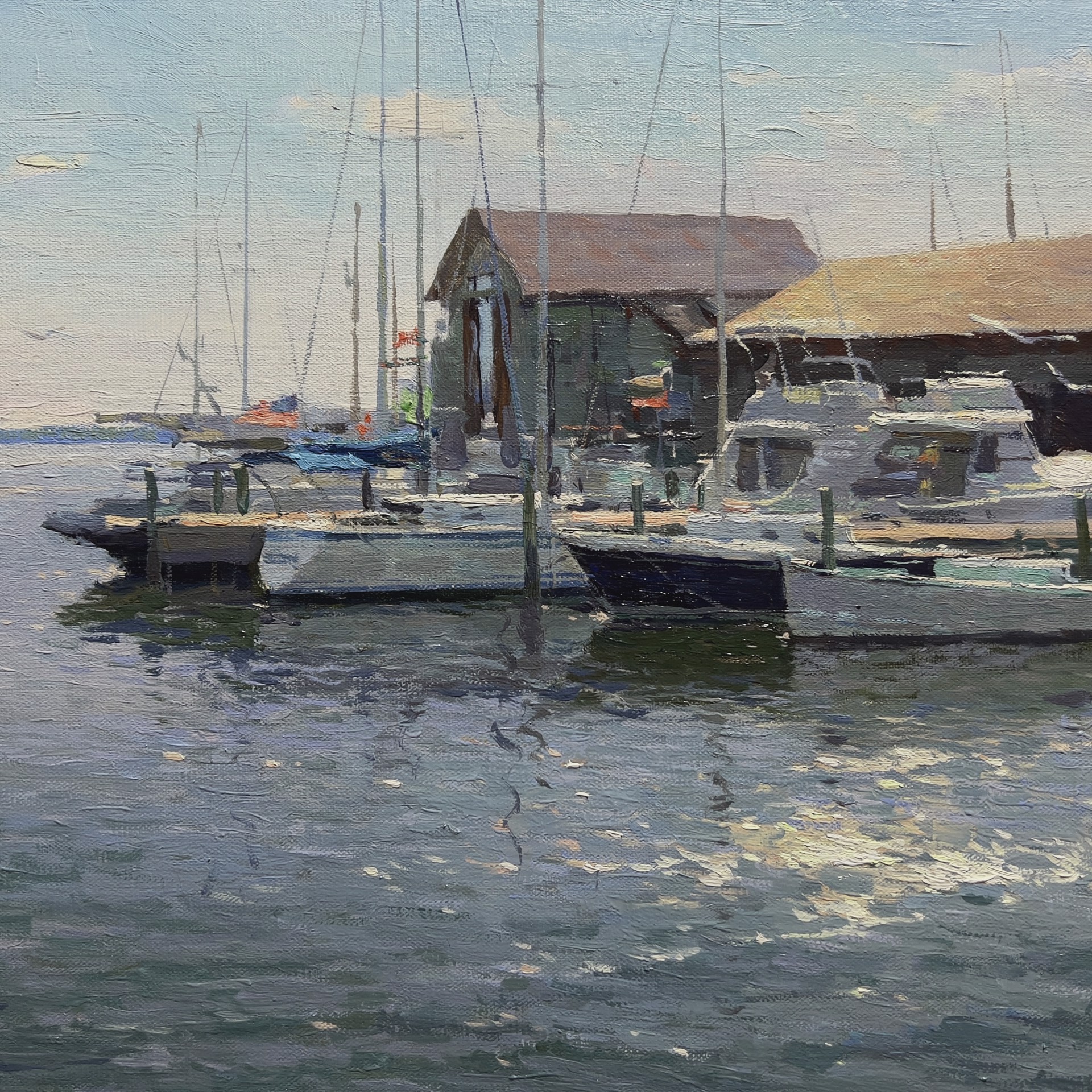 Zufar Bikbov's passion for oil painting and the dynamic nature of the plein air art form has led him to avidly explore and paint the American landscape for a decade. Zufar embraces experimentation in his artwork and today, his painting style exhibits elements of both realism and impressionism, and reflects a more high key color palette.
A native of Russia, Zufar was influenced by his father's unrealized dream to become a professional artist in the Stalin era post WWII Soviet Union. He trained from the age of nine at Zelenodolsk Youth Art School in Kazan in the Russian realism tradition, and was 11 when he painted his first plein air painting. As a young adult, Bikbov embarked on a career in medicine. During his study in medical school, residency, and finally a move to the United States, Zufar was honored to participate in the exhibit "Doctors Paint" in the State Museum of Fine Arts in Kazan and at Yale Medical School.
In 2012, Zufar entered the competitive world of plein air painting in the US, winning numerous, prestigious plein air awards at national competitions. Among those, Zufar treasures most the Artist Choice Award at Plein Air Easton (Maryland), a "Medal of Honor and Merit" from the Kent Art Association, the Hudson Valley Art Association Gold Medal, and the Irvine Museum Award received during the Laguna Plein Air National Competition in Laguna Beach, CA. His paintings are widely represented in private collections in the United States – from New England to California – in the UK, Spain, and of course in Russia.
Zufar, a Connecticut resident, is an elected member of the Guild of Boston Artists, the Kent Art Association, the Lyme Art Association, and the Plein Air Painters of America.
Selected Awards and Exhibitions:
2022 - Best Use of Light Award at Gloucester Plein Air Art Festival, Gloucester, VA
2021 - Second Place at Door County Plein Air, Fish Creek, WI
2021- Best Maritime Painting and Quick Draw Honorable Mention Awards at Plein Air Easton, Easton, MD
2021- Solo Show at Lyme Art Association, Old Lyme, CT
2021- Third Place Award at Mixmaster Annual Juried Show, Mattatuck Museum, Waterbury, CT
2020 - First Prize Award - Connecticut Plein Air Painters Society Annual Members Show, 2020
2020 - Artist Choice Award - En Plein Air Texas Invitational, San Angelo, TX
2019 - En Plein Air Texas Invitational. Third Place Award. San Angelo, TX
2019 - Artists' Choice Award and Award of Excellence. Cape Ann Plein Air competition. Gloucester, MA
2019 - First Place. New England Landscape Exhibition. Lyme Art Association. Old Lyme, CT
2019 - Artists' Choice Award. Door County Plein Air Festival. Fish Creek, WY
2019 - Waterways Award, and First Place at Small Paintings Sunday Award. Plein Air Easton. Easton, MD
2019 - Gold Medal of Honor Award. Hudson Valley Art Association's 86th Annual Juried Exhibition. Old Lyme, CT
2019 - Waterworks: A Marine Show. First Place. Lyme Art Association. Old Lyme, CT
2018 - Cape Ann Plein Air, Second Place Award. Gloucester, MA
2018 - Plein Air Easton, Third Place Award. Easton, MD
2018 - Award of Mid-Atlantic Plain Air Association. Wayne Plein Air. Wayne, PA
2018 - Award of Excellence. Members' Spring Juried Show. Kent Art Association. Kent, CT
2017 - Grand Prize, Award of Excellence. Connecticut Plein Air Painters Society. Southington, CT
2017 - Precious Water Award. En Plein Air Texas Invitational. San Angelo, TX.
2017 - Distinctive Merit Award. Laguna Plein Air Invitational. Laguna Beach, CA
2017 - Founders' Award/Best in Show. Spring Juried Show at Kent Art Association. Kent, CT
2017 - Exhibition "Dusk till Dawn" at The Irvine Museum Collection at the University of California. Irvine, CA
2017 - Best in Show/ Founders' Award at Spring Juried Show, Kent AA. Kent, CT
2017 - Atlanta History Center Insiders Plein Air Award at Atlanta-Olmsted Plein Air, Atlanta GA
2016 - Irvine Museum Award at Laguna Plein Air Invitational XVIII. Laguna Beach, CA
2016 - American Masters. Salmagundi Art Club. New York, NY
2016 - Artist Choice Award, Best Composition, Best Nocturne at Plein Air Easton XI. Easton, MD
2016 - Solo Exhibition and Artist's Talk: "Exploring America's Beauty: Artist's Way to Go. Gloria Cachion Gallery at SPL. Southbury, CT
2016 - Canson Award at Plein Air Wayne. Wayne, PA
2016 - Best of Gillette Castle Paint-out Award, East Haddam, CT
2016 - Jerry's Artarama Award at Connecticut Plein Air Painters Society Annual Show. Putnam, CT
2015 - Artists Choice at Tilghman Island Paint Out. Plein Air Easton X, MD
2014 - Best Use of Light, Artists Choice Award at Plein Air Easton IX. Easton, MD
2014 - Solo Exhibition. Gallery on the Green. Norwalk, CT
2013 - Grand Prize at Connecticut Plein Air Painters Society Annual show. East Hartford, CT
2013 – Best in Show - Connecticut Schooner Plein Air Festival. New London, CT
2013 – 1st prize in Oils at Old Greenwich Art Show. Greenwich, CT
2012 – Grand Prize at Finger Lakes Plein Air. Canandaigua, NY
2012 – 1st prize in Oils at Old Greenwich Art Show, Greenwich, CT
2019 - Numerous Awards of Excellence. Kent Art Association. Kent Conn. 2009 - Solo Show. Kent Art Association, Kent, CT
2008 - Medal of Merit. Kent Art Association. Kent, CT.
2007 - President's Show. Best in Show, Anthony E. Wallace Memorial Award. Kent Art Association. Kent, CT.
2006 - One Man Show. Gallery at Pomperaug Woods, Southbury, CT
2005 - Two Artists from Russia, Fenn Gallery, Woodbury, CT
2004 - Yale Art Place Show, Yale School of Medicine. New Haven, CT
2003 - Vanguard Traditions in Contemporary Art of Tatarstan, State Museum of Fine Arts, Kazan, Russia
2003 - Spring Crown, Central Exhibition Hall of Artists' Union. Kazan, Russia
2002 - Doctors Paint. State Museum of Fine Art. Kazan, Russia.

Affiliations:
Oil Painters of America
Professional Union of Artists of Russia
Lyme Art Association
Laguna Plein Air Painters Association
Kent Art Association
Connecticut Plein Air Painters Society
Read More
Click on the paintings to enlarge